Carrier Introduces WeatherExpert Packaged Rooftop Units Optimized for High Outdoor Air Applications.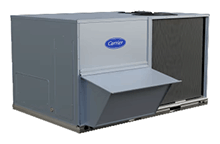 Carrier is expanding its line of WeatherExpert® packaged rooftop units with the new high outdoor air system, a light commercial rooftop unit capable of conditioning up to 100% outdoor air.
The WeatherExpert high outdoor air system can operate with up to 100% outdoor air for ventilation or make-up air or building ventilation. WeatherExpert high outdoor air systems can pair with space air conditioning and heating systems, such as Carrier VRF, water source heat pumps or rooftop units, to provide a complete HVAC solution for schools, hotels or office buildings.
When a stand-alone solution is preferred, the WeatherExpert high outdoor air system can condition up to 50% outdoor air to provide heating, air conditioning, dehumidification and ventilation for retail spaces, gymnasiums, restaurants and other light commercial buildings.
The Carrier WeatherExpert high outdoor air units will be available in nominal 6, 7.5, 10 and 15-ton cooling capacities. For more information, visit www.carrier.com/commercial.
---
Daikin Announces Daikin ATMOSPHERA with R-32 Refrigerant.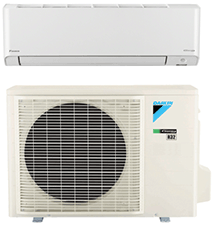 The first single zone system with R-32 in North America features impressive efficiency gains while reducing emissions vs. R-410A

For the first time in North America, Daikin is launching a home comfort product featuring R-32, a refrigerant with one-third the Global Warming Potential (GWP) of the most common refrigerants currently being used in the United States and Canada.
The new Daikin ATMOSPHERA system featuring R-32 refrigerant from Daikin North America LLC is a powerful, new single-zone system that has a lower GWP, is more efficient and may help lower end-user electric bills compared to R-410A models. Daikin has sold over 33 million R-32 systems in more than 100 countries and regions.

For more about Daikin ATMOSPHERA and the low-GWP potential benefits of R-32, visit www.DaikinAtmosphera.com and www.R32Reasons.com.
---
Greenheck Introduces the RV-10 Rooftop Ventilation Unit.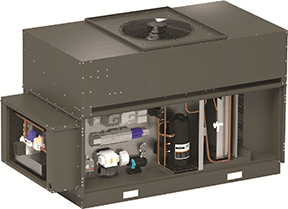 Model RV-10 is the latest addition to Greenheck's line of rooftop ventilation equipment for both partial recirculation and 100% outside air systems. Ideal for applications requiring a lower CFM range and a smaller footprint, model RV-10 offers airflows from 500 to 2,500 cfm, 3 to 7 tons of packaged DX cooling, and 75 to 200 mbh of indirect gas-fired heating. An electric heat option is also available.

Featuring two-inch double-wall construction and R13 foam insulation, the RV-10 includes a top-mounted condenser and an upgraded controls platform with a web user interface that comes as standard. The factory-programmed, wired, and tested controller can operate as a stand-alone unit or integrate with a Building Management System (BMS). Vertical or horizontal duct connections allow for flexible installation.
Model RV-10 also features an inverter compressor that provides precise temperature and humidity control at reduced sound levels and helps save energy by improving part load efficiency. Inverter compressors typically achieve 15%-20% higher IEER compared to digital scroll compressors. Optional air cleaning technologies including Needlepoint Bipolar Ionization (NPBI®) and UV Lights are also available.

For more information visit www.greenheck.com or contact Greenheck, P.O. Box 410, Schofield, WI 54476-0410, (715) 359-6171, FAX (715) 355-2399.
---
New Fabric HVAC Duct Available at Wholesalers for Contractors.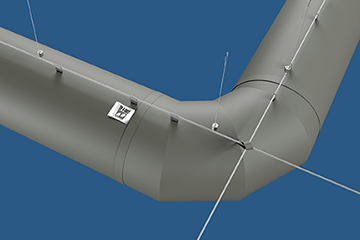 Zip-A-Duct® enables contractors to design small to medium ventilation projects with fabric duct and purchase components at traditional U.S. wholesale distributors.

Designed for smaller to medium-sized, non-plan/spec ventilation projects, Zip-A-Duct is a time-saving, cost-cutting solution that's applicable to 90 percent of retrofit and new construction ventilation projects.
Applications include retail, restaurants, athletic training facilities, offices, industry, warehouses, temporary structures, grow-ops and any other commercial/industrial/institutional open-architecture ceiling applications requiring exposed HVAC ductwork.
Zip-A-Duct zips together onsite and cuts installation time up to 80-percent and materials/labor cost up to 50-percent versus spiral or rectangular metal duct alternatives.
Zip-A-Duct is constructed of polyester-woven fabric available in 8 to 36-inch-diameter components that are quickly installed with zippered connections aesthetically concealed under flaps for a smooth streamlined appearance. Components include custom elbows, custom lengths, a T-fittings, inlets, endcaps and eccentric reducers. Colors include white, grey, black and blue.
For more information on the Zip-A-Duct products and accessories, please visit www.zipaduct.com; email sales-US@zipaduct.com; or contact customer and technical support departments at 470-622-6810
---
Launch of Coolvert - VFD Specifically for CO2 refrigerant condensing systems.
Optidrive Coolvert – designed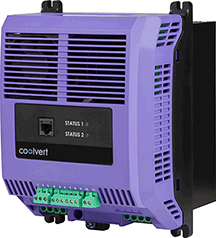 specifically for use with CO2 refrigerant condensing systems and specifically OEMs involved in the production of such systems globally.

Coolvert VFD has one of smallest footprints and widest ambient operating temperature in its class

A new high-performance variable frequency drive (VFD) designed for OEMs to optimise the performance and the lower the energy costs of BLDC compressors used in heat pumps and condensing units has been launched by Invertek Drives.

The new Optidrive Coolvert is one of the smallest in its class, providing machine builders with opportunities to reduce panel space and lower machine costs. Designed to operate specifically with CO2 refrigerant condensing systems, it can provide end-users with energy savings of up to 25 per cent.

For use in applications involving CO2 refrigerant systems, Coolvert is targeted at OEMs to help meet the EU F-Gas (Fluorinated Greenhouse Gas) regulations, in addition to energy efficiency gains.
More details can be found by visiting www.invertekdrives.com.
---
NORTEK GLOBAL HVAC Introduces the W-Series Air Conditioning and Heat Pump Equipment.

The W-Series completes Nortek's redesign of Gibson, NuTone and Frigidaire branded residential and light commercial air conditioning and heat pump equipment.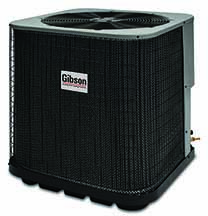 Nortek Global HVAC, a leading manufacturer of HVAC equipment, introduces the W-Series of air conditioning and heat pump equipment for residential and light commercial applications.
The introduction completes the final phase of an overall redesign of Gibson®, NuTone® and Frigidaire® branded 1.5 to 5-ton, single-phase air conditioning units and heat pumps. The redesign began with introductions of the premium F-Series in 2017, the mid-range E-Series in 2018 and now culminates with the economically-priced W-Series in 2019. The redesign offers contractors a "good-better-best" strategy that accommodates any consumer price range and feature requests backed by Nortek's renowned reliability and contractor technical and marketing support.
The W-Series' air conditioning (WSA) is available in 13, 14 and 16-SEER models and the heat pump (WSH) in 14 and 16-SEER models. Standard features include Copeland scroll compressors and a liquid line filter-drier for field installation in an accessible position to facilitate easy periodic change-outs.
For more information about Nortek Global HVAC products and to access the online literature library, contractors and distributors should visit www.nortekhvac.com.
---
SuperSleeve Expedites Mini-Split AC Installations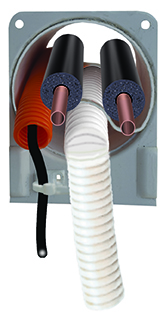 The SuperSleeve saves time, money and labor when retrofitting any brand or model of wall-mounted ductless mini-split evaporators in residential and commercial buildings.
Designed and developed by Marketair's engineering department, the patent-pending, SuperSleeve eliminates the need for a second jobsite technician or a temporary support bracket to hold the evaporator in place during a retrofit installation. The 3-inch-diameter (I.D.) (7.5-cm) SuperSleeve is flanged on both ends for a tight, secure fit and telescopes from 6 to 12-inches (15 to 30-cm) to accommodate most wall thicknesses.
The SuperSleeve design goes beyond conventional wall sleeves and features an innovative integral positive slope guide for the condensate drain hose. Although the sleeve is installed level, the drain hose guide sill ensures a 3/8-inch (9.5-mm) downward pitch away from the evaporator to promote correct drainage. The hose compartment at the bottom of the sleeve holds standard insulated 5/8-inch (16-mm) condensate hose securely in place to ensure the pitch.
SuperSleeve is available direct or through most wholesale HVAC distributors throughout North America. For more information or to receive a free Marketair HVAC/R products catalog, please visit www.marketair.com, call (732) 985-8226 or email: info@marketair.com.
---
Rotobrush Launches New Carrier for BrushBeast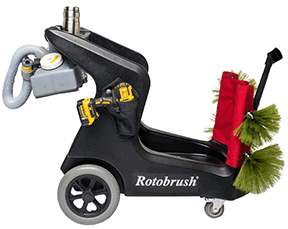 The new 'Speed Tray' carrier lets technician have everything they need right there to get the job done faster.

Rotobrush® International LLC has released the newest version of its most powerful air duct cleaning system. The BrushBeast, which launched in 2015, allowed contractors to expand their services to commercial customers and the latest updates make it easier for contractors to have all their tools and accessories in one place while still being able to maneuver throughout the job site. The new "Speed Tray" carrier allows you to have everything you need right there to get the job done faster.
Updated features of the new BrushBeast carrier include:
•Additional storage to hold drills and other on-the-job tools
•Brushes attach to carrier
•Shop vacuum accessory holder
•Fogger holder
•Cup holder
•New hose holder design
•Screw holder with attached magnet
•All new one piece construction design
For more information visit https://www.rotobrush.com/
---
Armstrong's New 'Pump Manager' Extends Performance Management Service Solutions.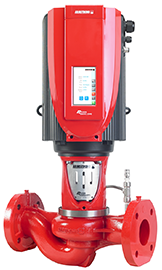 Pump Manager is a web-based service that leverages the embedded intelligence and connectivity available through its technologically advanced new line of Design Envelope pumps to provide sustained performance and significantly enhanced reliability.

Delivered as a highly secure, cloud-based application, key features of Pump Manager include:

• Real-time alerts and warnings – operators have immediate knowledge of challenges such as deadheading, cavitation, a broken coupling and excessive vibration. The base alerts include pumps operating 'in-hand' and excessive run-hours which can significantly impact energy consumption and availability.

• Online trending and analysis across multiple parameters on single pumps or an aggregated basis for multiple pumps. The trends will assist in identifying performance degradation and will provide early indication of potential maintenance requirements, allowing customers to move to a predictive and proactive approach.

• Reports and summaries that provide a simple and intuitive view of pump performance and key trends.
For more information about Armstrong Fluid Technology visit www.armstrongfluidtechnology.com.
---
Gen III Outdoor Condensing Units Include Enhanced Feature Packages.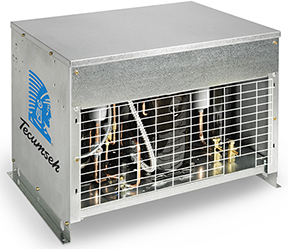 Tecumseh's popular Gen III Outdoor Condensing Units have been upgraded to include enhanced feature packages. Feature packages provide refrigeration contractors with a preferred set of options based on outdoor ambient temperatures that are associated with northern U.S. and Canada and, southern U.S. climate zones.

The Gen III "Silver" feature package is designed for southern U.S. climate zones and the "Platinum" package contains appropriate options for northern U.S. climate zones. Canada's colder climate is well served by the "Gold" feature package. New Gen III feature packages simplify product selection and ordering and, deliver more value at a competitive price. Popular Gen III condensing unit models are stocked and readily available for shipment.
All Gen III Outdoor Condensing Units feature reliable Tecumseh reciprocating or scroll compressors, paired with efficiently sized coils for optimum performance. All-in-one service access allows side-by-side installation of multiple units, while facilitating maintenance and serviceability. The units range from ½ to 8 HP, compatible with refrigerants R22, R407C, R404A, R507, R134a, R407A, and R407F.

For more information, visit our website at www.tecumseh.com
---
Advanced modulating technology in new Champion® LX Series 16 SEER heat pump contributes to lower operating costs.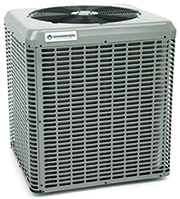 Available this April, the new Champion® LX Series 16 SEER/9.0 HSPF heat pump from Johnson Controls features advanced modulating technology proven in Champion's five-year accelerated test facility and more than 215,000 hours of research.
The unit's ability to adjust its operating capacity provides quiet, efficient operation as it adjusts heating and cooling levels up or down to provide only what is actually needed to condition the space. This provides more even temperatures and lower operating costs.
Reducing compressor speed and decreasing airflow also allows the system to operate longer without drastically over-cooling the space, improving dehumidification. In colder weather, a demand defrost feature minimizes heat pump operation, removing frost on the outdoor coil far more effectively than time methods.

Contractors will appreciate easy access to commonly serviced items, a sturdy fan guard, smooth edges that allow for easier handling and a compact footprint for easy hand trucking and placement on site. The unit also features Champion's new fee-free, one-year labor limited warranty and is available in early 2016.

For more information, visit www.championhomecomfort.com.
---
DiversiTech Introduces New Line Up of Genteq HVACR Residential Motors.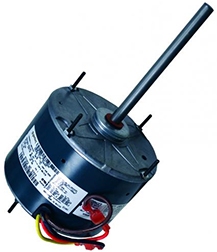 DiversiTech Corp., a leading manufacturer and supplier of HVACR parts and accessories, announced today that it is adding two motor lines under the premium Genteq brand to its family of residential motors.
The addition of the Genteq motor lines provides distributors and contractors with a trusted, nationally recognized brand name known for quality and innovation. DiversiTech's expanded motor portfolio means distributors and contractors now have greater product choices and selling options for their customers.
Distributors wanting to order product or desiring product information can contact their local DiversiTech manufacturer representative or visit www.diversitech.com
---
EcoNet's IOT Wireless HVAC Vent Receives SmartThings Approval.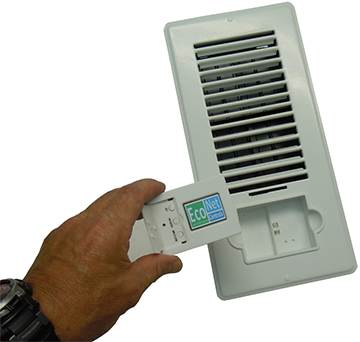 EcoNet Controls of Clearwater Florida, a manufacturer of Home Automation Devices, has received the "Works with SmartThings" stamp of approval for its EV100 series of Z-Wave HVAC vents. A basic configuration of EcoNet's wireless vents and a SmartThings controller adds convenience and improved HVAC comfort and efficiency to the standard home. The EV100 joins a growing list of IOT devices that are compatible with SmartThings.
Although the EV100 is certified by the Z-Wave Alliance, it is a unique device that currently does not fit into any of the standard device categories. Because of this, changes were required in the way it communicates to the SmartThings controller. As an official partner, EcoNet worked closely with SmartThings in creating a custom driver for the EV100. The EV100 works with most standard Z-Wave controllers but it works especially well with SmartThings.
EcoNet's HVAC Vents/Registers are direct replacements for vents in the standard North American home that uses a forced air system. Installation and setup is simple and takes only a few minutes. The vents are available in several sizes and styles. A properly configured system can reduce HVAC cost from 10% to 20%.
https://www.econetcontrols.com
---