Introducing the SRP MODULUS™ Adaptive Modulating Infrared Tube Heater.

The SRP Modulus™, adaptive modulating infrared tube heater provides unparalleled thermal efficiencies
in excess of 80%. Rates range from 80,000 to 200,000 btu/hr with a 40% modulating differential. The
built-in "Quick-Start" function ramps up to high power resulting in optimum temperatures achieved almost as soon as the heater is turned on. Lengths: 20 to 60 ft, NG or LPG.
For more information call 1-800-527-HEAT (4328) or visit www.superiorradiant.com.
---
Consumers Digest recognizes Luxaire gas furnaces for energy efficiency and cost savings.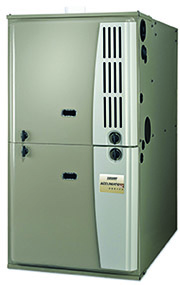 Consumers Digest recently named Johnson Controls Best Buy award winners for two Luxaire® Acclimate™ Series modulating gas furnaces models for outstanding efficiency ratings, fuel-conserving features and improved homeowner comfort. The designation also considered ease of use, maintenance requirements and quality and reliability.
"With a compact, 33-inch size that makes the units easy to install and service in tight spaces, Luxaire Acclimate modulating gas furnaces also offer attractive efficiency ratings that enhance sales," said Liz Haggerty, vice president and general manager, Unitary Products Group, Johnson Controls. It's reassuring to know that the Acclimate furnaces have been recognized by industry professionals for their significant contribution to energy efficiency."
Both Acclimate models feature energy-efficient motors. Among the industry's most efficient gas furnaces, the variable-speed model uses an electronically commutated motor (ECM) that delivers up to 98 percent Annual Fuel Utilization Efficiency (AFUE). The second award-winning model is powered by a permanent split capacitor motor and offers a 97 percent AFUE.
For more information about Luxaire, visit www.luxaire.com.
---
Rosenberg Introduces Backward Curved Fans With Integral Inlet Cone For Optimal Performance.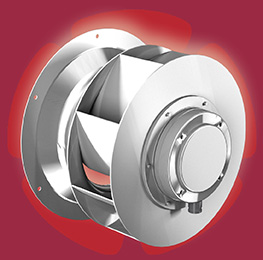 Rosenberg has introduced two new high-efficiency backward curved impellers equipped with integral inlet cones for optimal airflow. The new DKHR Series fans are available in 630 mm and 710 mm sizes and are suitable for a wide range of HVAC and air movement applications.
The 710 mm model DKHR 710-6SH delivers up to 11,500 CFM airflow or static pressure up to 3.4 inches WG. The 630 mm model DKHR 630-6SH can generate up to 7,600 CFM or 2.6 inches of static pressure (460-Volt / 60 Hz / 3-phase).
The DKHR 710 features a free-running 8-blade impeller constructed from sea-waterproof aluminum. The inlet cone is made from galvanized sheet steel. The DKHR 630 employs a plastic impeller. The fans are balanced on two levels according to quality class G 2.5, DIN/ISO 1940. Maintenance-free ball bearings are closed on both sides and sealed for life.
For more information, or to place an order, contact Rosenberg USA by phone at (704) 893-0883; fax (704) 882-0755 or e-mail sales@rosenbergusa.com.
---
Aspen Pump's Mini Aqua Mini-Split Condensate Pumps Add 'Plug-and-Play' Installation Time-Saver.
Available through RectorSeal, world's slimmest pumps now have quicker installation and replacement with 'Plug-and-Play' connection power/communication cable plugs.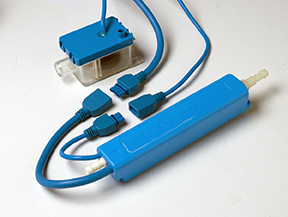 RectorSeal® Corp., Houston, the exclusive U.S. distributor for Aspen Pumps, introduces the installation time-saving 'Plug-and-Play' feature for Aspen's Mini Aqua® and Silent+ Mini Aqua®, the world's slimmest condensate pumps for ductless mini-split air conditioners.
Plug-and-Play enables quick pump installation or replacement, because power and communication cables are connected via easily attachable/detachable slide-together pre-wired plugs. The Mini-Aqua Series' IEC Class ii appliance classification eliminates the need of a ground wire and makes the Plug-and-Play a quick connection or release.
The Mini Aqua and the Silent+ Mini Aqua are designed to quietly and efficiently remove condensate from the evaporator drain pan on ductless mini split and other air conditioning applications. Their 1.1 (h) x 6.4 (l) x 1.1-inch (d) (28 x 165 x 28-mm) ultra slim design allows for aesthetic, flexible concealment inside mini-split evaporator housings or within wall-mounted lineset protection duct.
The Silent+ is one of the industry's quietest pumps with a 19.5-decibel rating and a design featuring an anti-vibration bracket, an acoustic dampener and a proprietary sound-attenuating high performance motor.
For additional information on all of RectorSeal's Aspen Pump products and its comprehensive range of mini-split installation accessories, please visit www.rectorseal.com; email: marketing@rectorseal.com; or call 800-231-3345.
---
Bosch Heatronic 4000 Commercial Boiler Control.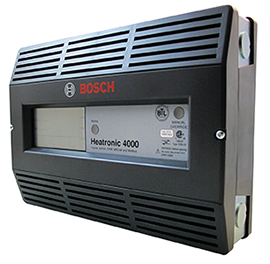 Bosch Thermotechnology has introduced its Heatronic 4000 commercial boiler control for producing and maintaining a set target temperature in up to 4 boil-ers.
The Bosch Heatronic 4000 controls and monitors both condensing and non-condensing commercial boilers that have modulating, single-stage,
two-stage and dual fuel burners. This BacNet® and Modbus® compatible burner controller allows for a more flexible, cost-effective mixed boiler plant solution, providing better system control, energy efficiency and overall boiler
performance.
Using the boiler selector menu reduces programming time as well as set-up and start-up times for any application. Each boiler in the Menu Selector comes with 22 default pre-programmed parameters stored in memory. Parameters include fuel type (gas, oil), burner signal (single-stage, two-stage or
modulating), boiler mass (low, med, high), low and high inputs in BTU, and
a min-max modulation signal, to name a few.

For more information visit www.boschheatingandcooling.com.
---
New Digi-Sense Test and Measurement Equipment from Davis Instruments Set the Standard.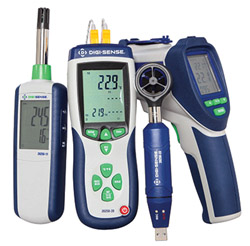 Precalibrated to Save Time, Effort, and Cost
A new selection of test and measurement equipment is designed to maximize the technician's productivity. Digi-Sense™ precision instruments from Davis Instruments include temperature, humidity, airflow, and light meters as well as manometers in an expanding line of products. The accurate and reliable new measuring tools are rugged enough for rigorous use and arrive precalibrated for time and cost efficiencies.
A sample of the performance monitoring and environmental testing meters include the Digi-Sense™ Thermohygrometer with TSH/TEET, T/C Input for use in the HVAC, IAQ, and environmental industries. This digital meter measures and displays temperature and humidity simultaneously, offering reliable measurements guaranteed. The Digi-Sense™ Pressure and Airflow Meter assists users in easily determining the performance of heating and cooling systems by measuring differential and static pressure and calculating air velocity and flow in ductwork.

To view all Digi-Sense test and measurement equipment, go to Davis.com/20882
or call 800-358-5525.
---
Belimo Energy Valve™ a Solution to Solve Low Delta T Syndrome.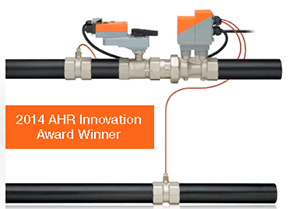 Belimo Americas in Danbury, Connecticut, the leading producer of actuators and valves in the HVAC industry, extends its Energy Valve range and now offers ½" to 2", the complete range offering is now ½" to 6"valve sizes. The Belimo Energy Valve is a two-way pressure independent control valve that optimizes, documents and proves water coil performance. Using its Delta T Manager™ the Energy Valve solves low Delta T syndrome by monitoring the differential temperature across the coil and adjusting the flow to maintain design delta T set-point keeping the heat transfer of the coil optimized while maintaining comfort.
The Energy Valve offers many benefits, such as:
• Manages Delta T
• Measures Energy
• Control Power
• BACnet Communication
The Energy Valve is designed for building owners that want to continuously control and monitor energy usage, and develop energy savings strategies through their BAS. The product range now consists of ½" to 6" valve body sizes.

Learn more at www.EnergyValve.com
---
New Model SWD Utility Fan with Vari-Green® Motor from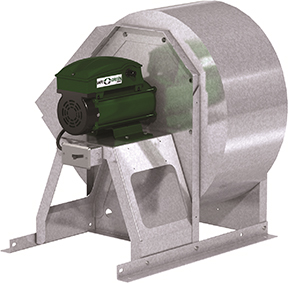 Greenheck.
Greenheck introduces Model SWD, the industry's first direct drive, backward-inclined utility fan to utilize an electronically commutated (EC) motor. Powered by Greenheck's energy efficient Vari-Green® motor, Model SWD achieves the performance of Greenheck's Model SWB belt-drive centrifugal utility fan, including higher operating efficiencies and higher pressure capabilities, available for variable volume airflow applications without the need to change belts.
Available in seven sizes (7 through 18) with capacities from 100 to 5860 cfm and up to 2.5 in. wg, Model SWD is suitable for ducted exhaust, supply and return-air applications typically found in commercial kitchens and fume hoods.

For more information about Greenheck products, visit www.greenheck.com or contact Greenheck, P.O. Box 410, Schofield, WI 54476-0410, (715) 359-6171, FAX (715) 355-2399.
---
Venstar Announces New Built-in API for ColorTouch Thermostats, Enabling Third-party Application Integration.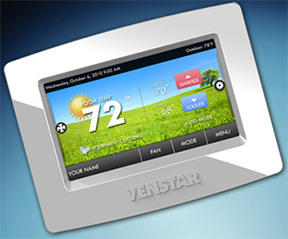 Now developers can use ColorTouch's built-in API (in firmware updates 3.08 and newer) to create applications that will allow the thermostat to be controlled by third-party applications, including home automation companies. This new API gives developers the ability to monitor and control ColorTouch's Schedule, Mode, Temperature and other settings from their own products.
To support third-party development, Venstar has created a Developer site (https://developer.venstar.com) that provides an overview and guide to utilizing ColorTouch's built-in API for creation of integrated applications for remote monitoring and control of ColorTouch thermostats. It also has examples in a variety of programming languages that will help developers generate the codes needed to create applications.
For more information on ColorTouch, visit https://www.venstar.com/Thermostats
---
Greenheck ICD Dampers Earn AMCA Efficiency Rating.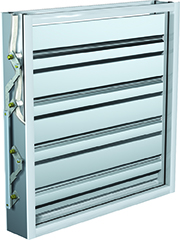 Greenheck's ICD series of Insulated Control Dampers have earned AMCA's new certified rating of Energy Efficiency. This new test method, which is found in ANSI/AMCA standard 500D-12, assigns a damper a Thermal Efficiency Ratio (E) by comparing its thermal performance with the thermal performance of a standard reference damper.
In addition to being certified for energy efficiency, the performance of ICD series dampers is also AMCA certified for pressure drop and leakage. Greenheck Model ICD dampers are ultra-low leakage dampers with thermally broken insulated blades and available with a thermally broken frame. ICD dampers are ideally suited for applications where minimal leakage and thermal transfer are required or when condensation on the damper blades is a concern. Greenheck Model ICD dampers are licensed to bear the AMCA Seal for Air Performance and can help building projects qualify for LEED credits.

For more information about Greenheck products, visit www.greenheck.com or contact Greenheck, P.O. Box 410, Schofield, WI 54476-0410, (715) 359-6171, FAX (715) 355-2399.
---
MSD Research, Inc., an innovator of HVAC products announced the launch of its ALL-ACCESS Condensate Cleanout Device.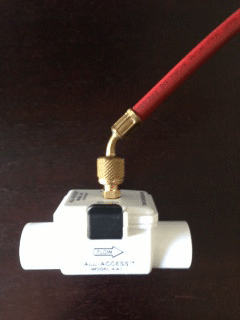 The Model AA1 device installs easily into ¾" or 1" PVC drain lines in either the horizontal or vertical position. Once installed, the technician will never need to cut the drain line again to service it.

The ALL-ACCESS device allows the drain line to be cleared by attaching a nitrogen hose to the top fitting and clearing the drain line downstream from the unit. The flapper assembly inside the device automatically closes to seal off the drain leading back into the unit. Once the nitrogen pressure is removed the device remains completely open and permits the full flow of condensate.
The AA1-INS fits the device perfectly making it easy to install and also creates a better appearance. This device will be available to the wholesale trade this August. We believe that this product will help HVAC companies save time and money and make drain line service a breeze.

For more information about this product please contact MSD Research, Inc. at
sales@MSDResearch.net Visit us at www.ALLAccessDevice.com

---
McElroy's Pit Bull® 26 is Unleashed.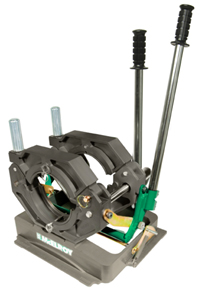 Manual fusion machine butt fuses 160mm polypropylene pipe.
McElroy's Pit Bull® 26 fusion machine is compact, lightweight and rugged with the ability to butt fuse 160mm polypropylene-random (PP-R) pipe, as well as smaller pipes down to 63mm in diameter. The Pit Bull 26 features McElroy's patented Centerline Guidance System and a semi-automatic locking cam system that maintains force during the cooling cycle.
The fusion machine is ideal for fusing pipe for use in for potable water applications, compressed air systems, hydronic heating, chilled water, recycled and reclaimed water applications, rainwater collection and irrigation, industrial applications, chemical transport, in-floor heating systems and fire-suppression systems. For more information, visit www.mcelroy.com/ppr.
---