Midwest HVAC News
2J Supply HVAC Distributors Continues to Grow.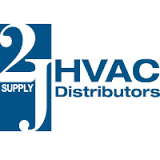 It is not often that you can find unwavering tradition and fast-paced progression in one company, but 2J Supply, a regional HVAC distributor out of Dayton, OH, has accomplished just that. 2J has continued to take its family-owned operation to new heights year after year while maintaining their trademark old-fashioned customer service.
Since 2012 they have grown over 7 million dollars in sales, opened 2 new locations, won multiple DBJ Top 100 and Best of Columbus company awards, and added 1,000 SKUs to their lineup. That's a lot in 4 years.

What is fueling this impressive rate of growth? Well, there are a few things. First, a few key positions have been added including a Regional Sales Manager, a new Operations position, a second Technical Service Advisor and multiple Territory Managers. 2J is now more prepared to help contractors in whatever way possible.
Alongside additions, transitions and additional training for employees has been a strategic focus. Owners, Greg and Larry Trimbach, are currently in the process of passing down management of the family business to the third generation, brothers, Kevin and Jason.


Story continues below ↓
---
advertisement | your ad here
---
People aren't the only new part of the 2J strategy. Expansion is also in the works. Their 10th location opened in Toledo at the beginning of 2015. The Louisville branch has also relocated to a new, larger building to accommodate the growing need in the area. 2J has its eyes open for further opportunities in the coming years.

Finally, new products have continued to be a focal point for 2J as they strive to make the latest and greatest available to their customers. LG ductless mini-splits are a recent addition to the lineup that have been available for almost a year. 2J just announced in November that they will also be bringing on Bosch tankless water heaters and geothermal products.

The future looks bright for 2J and they are excited to continue moving forward with their contractors. According to Kevin Trimbach, the biggest challenge 2J and the HVAC industry face "is getting people interested in HVAC distribution. To get the talented, intelligent, and driven people who will move the needle..." This is what 2J will focus on heavily within the next year..

About 2J Supply:
2J Supply is a Wholesale Distributor of heating and air conditioning products in Ohio, Kentucky & West Virginia. Our mission is to help HVAC contractors increase their sales and profitability by partnering with them. We offer jobsite delivery and high quality HVAC products. For more information visit http://www.2-jsupply.com.

###