Midwest HVAC News
2J Supply – A Dayton Top 100 Company.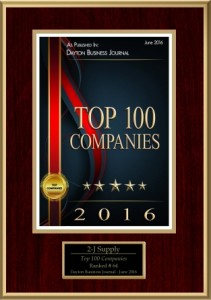 For the second year in a row 2J Supply has been voted a Dayton Top 100 Company by the Dayton Business journal. This year, we ranked number 64. As a company we are honored to be thought of as one of the top companies based out of Dayton, but it wasn't easy getting there! We have been a company since 1962, slowly growing across 3 states and hiring over 100 employees.

In that time, we have never forgotten that it is the employees and customers that make a company what it is. For that reason, we treat our employees like family. We offer health insurance and 401k with company match so we know that even when our employee eventually retire they can do so healthy and without worry.



Story continues below ↓
---
advertisement | your ad here
---
Our customer's businesses are one of our top priorities; if they do well, we do well. We offer a number of benefits for being a loyal customer at 2J Supply that include: marketing services, rebates, co-op, special deals for registered dealers, and so much more. We double check all equipment before it is shipped to ensure our customers receive top quality merchandise. Contractors are able to pass on many of the savings we offer to their customers, which in turn grow their business and brand.

Thank you for your support and helping us make 2J Supply what it is today!

###