Viega Announces Apprenticeship Program at its McPherson Facility.
Manufacturing program aims to train local students and revitalize apprenticeship programs in the area.

Viega LLC announced its Manufacturing Apprenticeship Program with the assistance of Hutchinson Community College.

Viega is currently interviewing and selecting students for the program which will start in January, 2017. In addition to receiving a paid position working in Viega's plastics, metals, machining or maintenance divisions, students who are selected for the program will receive a three-year associate's degree paid-in-full by Viega with the potential to earn other employee benefits.


Modine Innovation Tour heading to Columbus, Ohio.
Cutting-edge HVAC manufacturer to host hands-on event with the latest in HVAC technology and continuing education courses in Columbus on October 25. Modine Manufacturing Company a leader in technology in the HVAC industry, is going to be in Columbus, Ohio, on Tuesday, October 25 from 10 a.m. to 4 p.m., at Brookside Golf & Country Club. <<read complete story>>

DSG Donates $22,000 Worth Of HVAC Equipment To Madison Area Technical College.
Dakota Supply Group (DSG) recently donated $22,000 worth of Goodman HVAC equipment, including two 12.5-ton rooftop units and four modulating furnaces, to the Industrial Mechanical–HVAC program at Madison Area Technical College.
<<read complete story>

Gustave A. Larson Company, leading wholesale distributor of Heating, Ventilation, Air Conditioning, and Refrigeration (HVACR) equipment, parts, and supplies, is seeking a Sales Consultant to assist Heating, Cooling & Refrigeration customers. Under the direction of the Refrigeration Fields Sales Manager, the Sales Consultant will assist assigned refrigeration customers in profitable growth opportunities through introductions of the Larson Company's complete line of products and services. <<read complete story>>
ServiceTitan Partners with the Joseph Groh Foundation.
ServiceTitan donates $10,000 to assist the Groh Foundation in providing financial support to those within the construction and plumbing, HVAC, and electrical trades who are living with life-altering injuries or illness. <<read complete story>>


Gen III Outdoor Condensing Units Include Enhanced Feature Packages.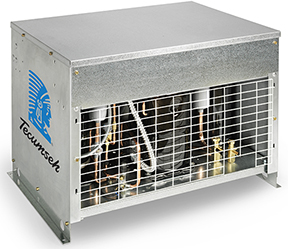 Tecumseh's popular Gen III Outdoor Condensing Units have been upgraded to include enhanced feature packages. Feature packages provide refrigeration contractors with a preferred set of options based on outdoor ambient temperatures that are associated with northern U.S. and Canada and, southern U.S. climate zones.

The Gen III "Silver" feature package is designed for southern U.S. climate zones and the "Platinum" package contains appropriate options for northern U.S. climate zones. Canada's colder climate is well served by the "Gold" feature package. New Gen III feature packages simplify product selection and ordering and, deliver more value at a competitive price. Popular Gen III condensing unit models are stocked and readily available for shipment. <<continue>>