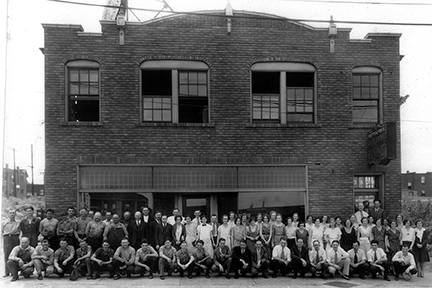 International Oil Heating Co circa 1931
(now Nortek)

Nortek Global HVAC Celebrates 100-Year Anniversary.
The anniversary celebration will focus on the company's innovations from the past and prospects for the future.

Nortek Global HVAC, a leading manufacturer of HVAC equipment, is celebrating its 100-year anniversary in 2019 by recognizing the accomplishments from the past and focusing on the innovations of tomorrow.

The landmark anniversary kicked off at the 2019 International Air-Conditioning, Heating & Refrigerating Expo (AHR Expo--2019) January 14 in Atlanta and will continue with subsequent celebrations and events throughout the year.


Winsupply names 9 manufacturers 2018 Vendors of the Year.
Winsupply Inc., one of the nation's largest wholesalers, has named its 2018 Vendors of the Year in their respective product categories. The Winsupply Preferred Vendors that won in each category were chosen based on several criteria, the most important of which was being a leader in growing the segment's business over the past year. <<read complete story>>

Emerson 2019 ASCO Engineering Scholarship Program is Now Open for Applications.
The merit-based scholarships reward students' potential for leadership and contributions to the engineering and related professions. Emerson will begin accepting applications for its 2019 ASCO Engineering Scholarship program, which rewards students who have potential for leadership and contributions to the engineering profession.
<<read complete story>


Gustave A. Larson Company & GPS Education Partners Announce Industry Workforce Initiative. Gustave A. Larson Company, the Midwest, Plains and Mountain states leading distributor of Heating, Ventilation, Air Conditioning and Refrigeration products, announced their partnership with GPS Education Partners, a 501c non-profit organization that uses an innovative education model to partner students with businesses to accelerate technical education through increased exposure to careers in manufacturing and skilled trades. <<read complete story>>

First Supply is expanding its presence in Edina, Minnesota, with the addition of Gerhard's Kitchen & Bath Store.
Gerhard's Joins Forces with Kohler Signature Store in Edina. Both brands are solely owned and operated by First Supply. With Gerhard's providing expertise in kitchen design combined with Kohler's renowned plumbing prowess, customers will find the expanded Edina destination to be the perfect one-stop shopping experience for kitchen and bath projects.
<<read complete story>>


SuperSleeve Expedites Mini-Split AC Installations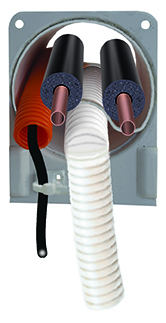 The SuperSleeve saves time, money and labor when retrofitting any brand or model of wall-mounted ductless mini-split evaporators in residential and commercial buildings.
Designed and developed by Marketair's engineering department, the patent-pending, SuperSleeve eliminates the need for a second jobsite technician or a temporary support bracket to hold the evaporator in place during a retrofit installation. The 3-inch-diameter (I.D.) (7.5-cm) SuperSleeve is flanged on both ends for a tight, secure fit and telescopes from 6 to 12-inches (15 to 30-cm) to accommodate most wall thicknesses.
The SuperSleeve design goes beyond conventional wall sleeves and features an innovative integral positive slope guide for the condensate drain hose. Although the sleeve is installed level, the drain hose guide sill ensures a 3/8-inch (9.5-mm) downward pitch away from the evaporator to promote correct drainage. The hose compartment at the bottom of the sleeve holds standard insulated 5/8-inch (16-mm) condensate hose securely in place to ensure the pitch. <<continue>>